Spatchcock Quail
Spatchcock quail marinated with balsamic soaked rasins
The better the balsamic the better the sauce. You can stretch the sauce by making a stock - boiling the removed backbone and reducing down to a flavoursome stock. The sauce can be done in advance and set aside. You can omit marinating the quail first if need be too.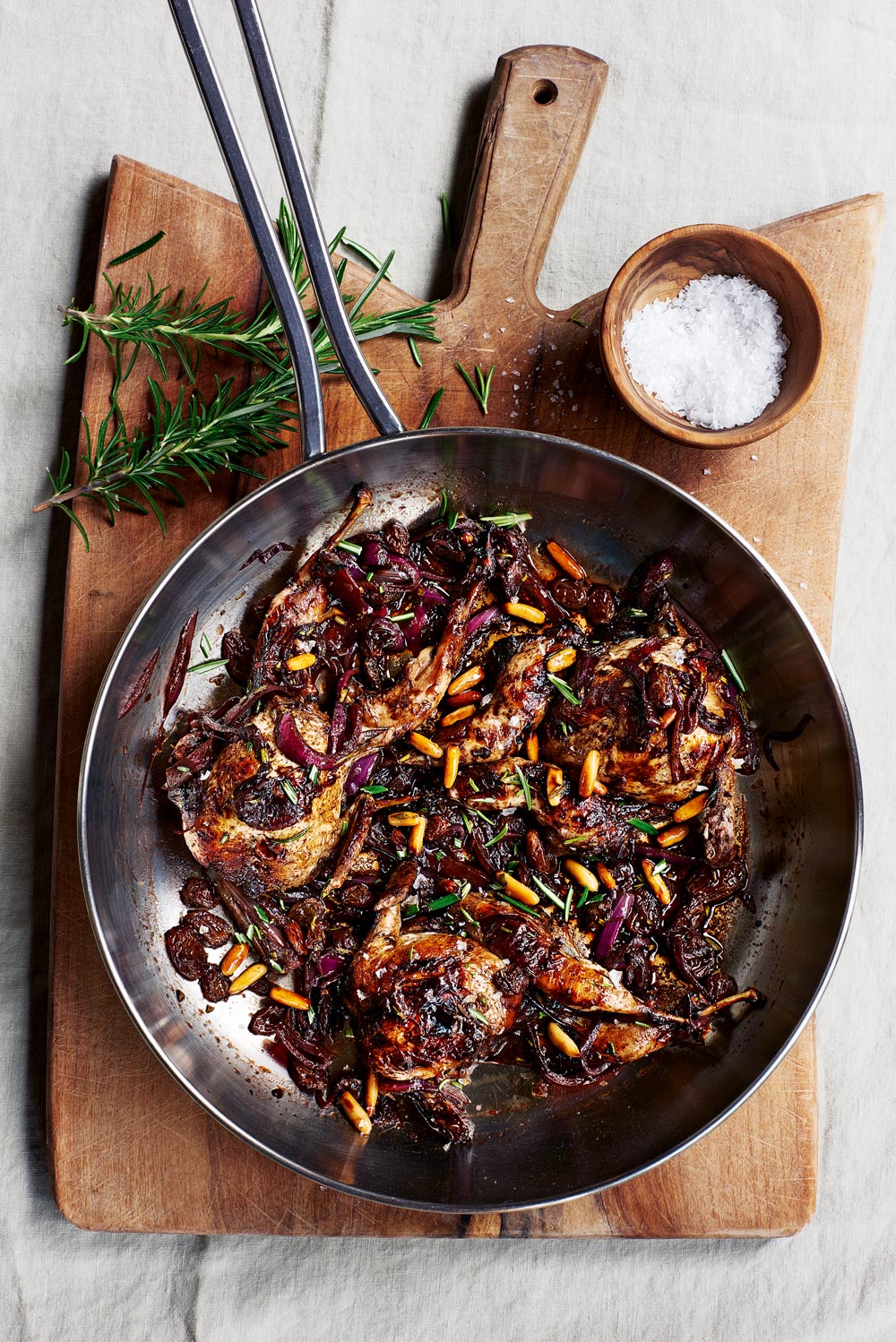 Ingredients
8 quail, backbone removed - spatchcock
200ml balsamic vinegar
2 tablespoons olive oil
1 large red onion, halved, finely sliced
2 large cloves garlic
30g raisins
2 sprigs rosemary, chopped
100ml red wine
50g toasted pine nuts
Method
1.

Remove the backbone of the quail and flatten them out. Put the quail breast side down and insert a pair of sharp scissors down the back-bone from the leg end to the wings. Cut along the side of the quail on both sides, removing a thin long rectangle - the back-bone, either side of the leg joints. Turn the quail over and press down so the quail sits as flat as possible. This is called spatch-cocking a bird, and allows the bird to be grilled or roasted more easily. Discard the back-bones or use later for a little stock.

2.

Place the quail in a bowl with the vinegar, give a good stir to coat all the quail with the vinegar and leave to marinate over night or at least 4 hours.

3.

Drain the quail from the vinegar, reserving the vinegar. Season with salt and pepper.

4.

Make the sauce. Cook the red onion in the olive oil until soft and transparent. Add the garlic, raisins and rosemary to the onions. Cook for a further few minutes to cook the garlic. Add the reserved balsamic and wine and cook for about 10 minutes on a medium heat to infuse and reduce the flavour of the sauce. Season with salt and pepper.

5.

Roast the quail in a preheated oven 200°C, or BBQ the quail for about 5-10 minutes on each side, depending if you like your quail pink or well done. Place the quail on a serving dish or plates. If roasting and there is are any juices left, scrape into the onion sauce. Bring to a boil and pour over the quail.

6.

Decorate with toasted pinenuts. Delicious served with semolina gnocchi and green beans.
Additional Images
Not Available
Tags
Meat, Game, Balsamic, Raisins