Spaghetti Vongole
Pasta alle Vongole - Pasta with Clams
This is one of my favorite pasta dishes - simple, stylish and delicious. Even the children seem to like it as large red chilies often contain very little heat. Make it as hot as you like. The shells are like tiny purses of salty goodness. There is no need to add any extra salt apart from in the pasta cooking water - clams are salty enough. You need to assemble your guests before you start to cook this dish because it is at its best eaten straight off the pan. If you are apprehensive about cooking all at the same time, cook the clams first, then the pasta, so you can concentrate on each stage.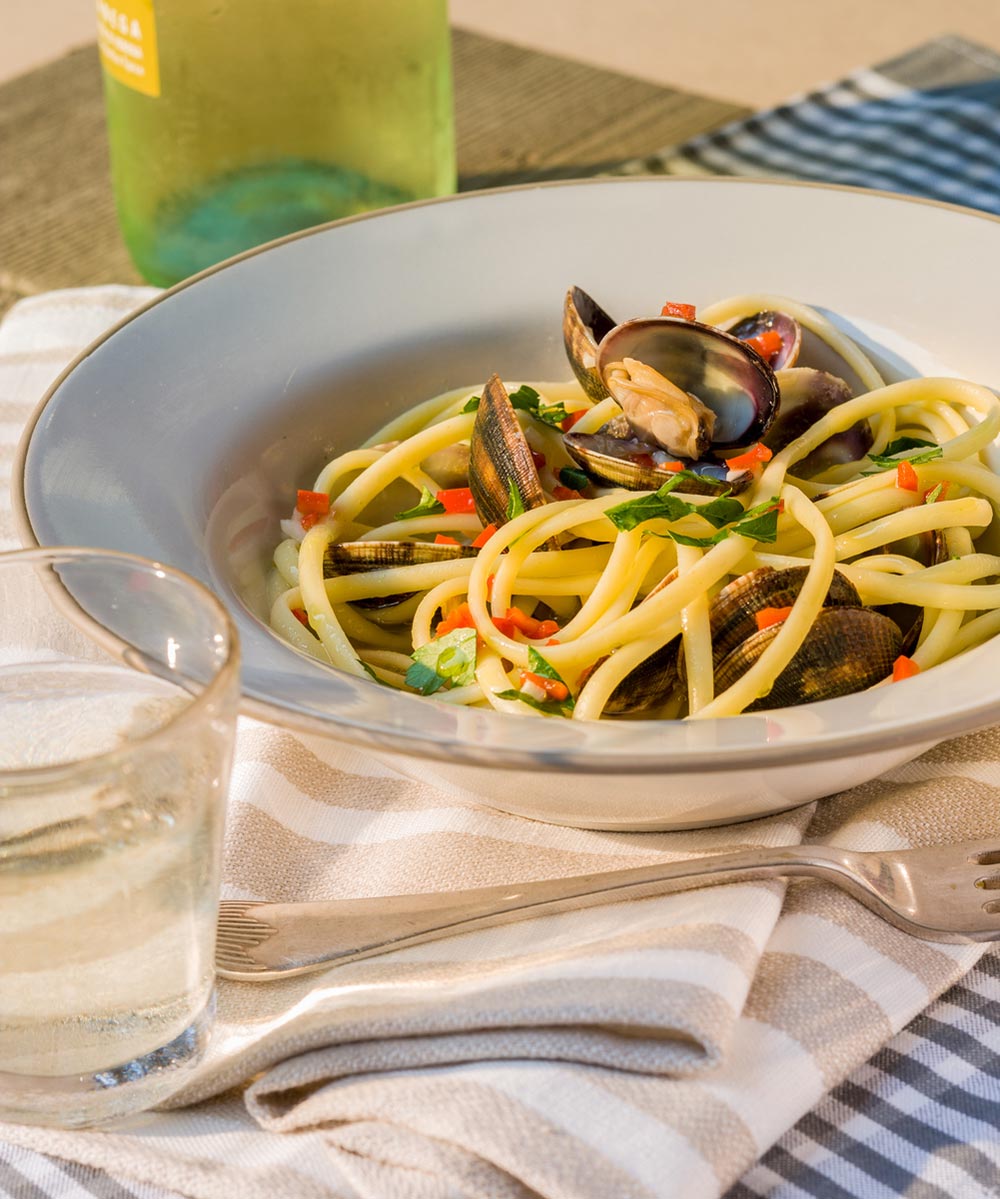 Ingredients
1kg clams, cleaned and drained
2 large cloves of garlic, finely chopped
1 large red chili, finely chopped
1 small bunch / 1 x 30g packet of flat leaf parsley
75ml white wine or dry white vermouth
100ml extra virgin olive oil
300g spaghetti or linguine
For Serving
Do not serve with cheese as this pasta contains chili and fish. A big no no in Italy.
Some tasty bread to mop up the juices helps.
A spare bowl to collect all the shells.
Method
1.

Clean the clams in a sink or large bowl of cold water. Running under cold water for a bit helps. Leave for a few minutes, then remove the clams individually, checking none are full of sand or grit and place in a colander. Drain well.

2.

Finely chop the garlic and chili and coarsely chop the flat leaf parsley. Set aside.

3.

Bring a large saucepan of well-salted water for the pasta. Heat a high-sided sauté or frying pan with a lid for the clams.

4.

Have all ingredients and guests ready then add the pasta, mixing well to coat each strand of pasta with water so they don't stick together.

5.

Transfer the clams to the hot sauté pan, add the vermouth and cover with a lid. Cook for about 1 minute until all the clams have opened. You might find they open at different times, so you might need to remove in batches. Drain over a bowl to catch the liquid.

6.

Add the oil to the sauté pan and cook the garlic and chili briefly, then add the parsley, and the clam juice, discarding any sediment. Cook the juice for a few minutes to concentrate flavours.

7.

Check the pasta is 'al dente', drain well and add to the clam liquid. At the last minute, add the clams, mixing the pasta off the heat. Serve immediately, dividing up the pasta and then the clams for easiest results. Pour any remaining juice over each dish.
Additional Images
Not Available
Tags
Pasta, Seafood, Clams, Mussels