Seared Scallops
Pan-fried Scallops with Bacon & Sherry Vinegar
Scallops with bacon are a traditional combination and the mixture works really well. In Northern Spain, they use a bacon similar to the French lardon called tocino or scraps of Serrano ham. The sherry vinegar cuts the richness of both the scallops and bacon perfectly. Scallops should be served rare, so don't be tempted to cook them for long.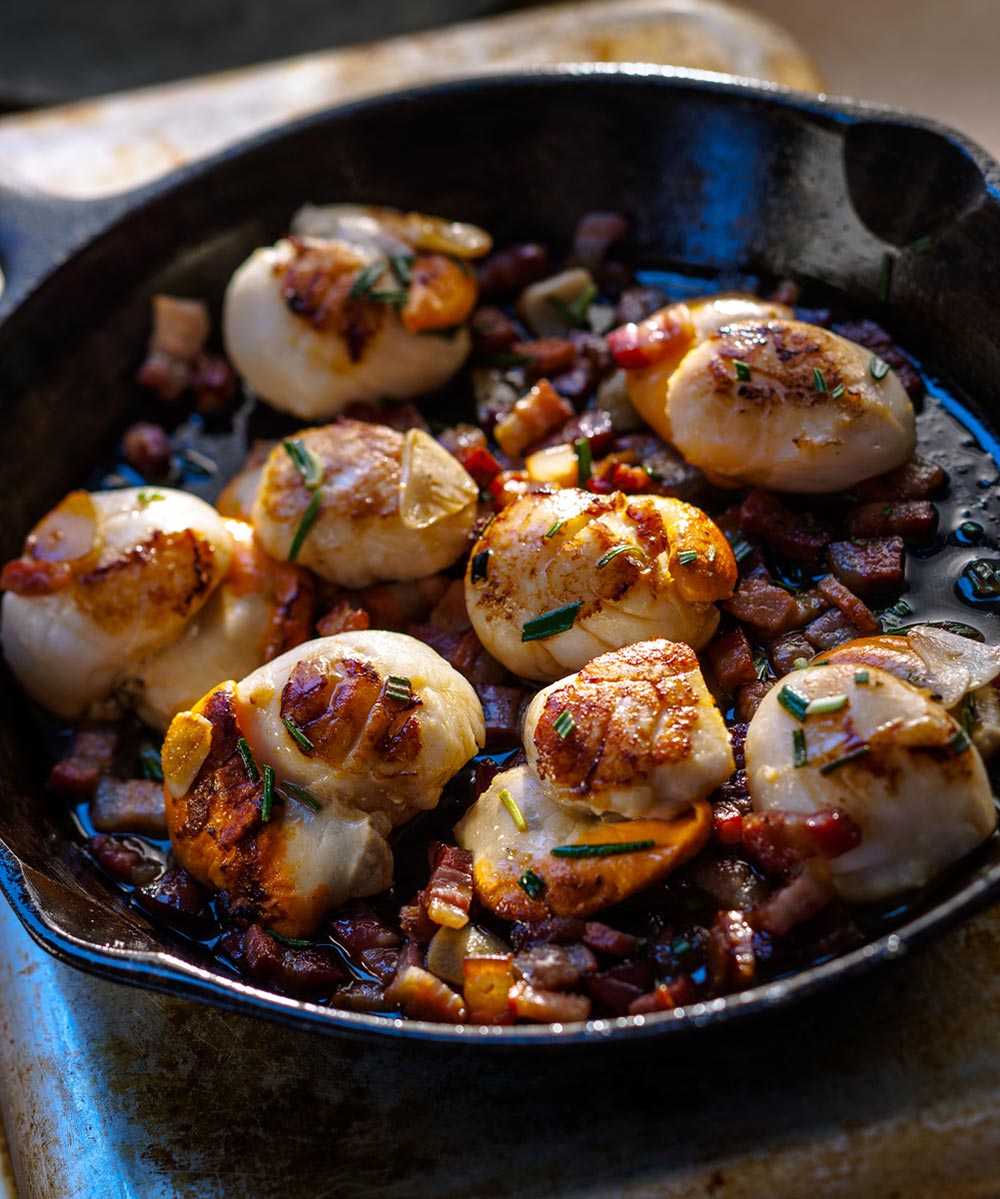 Servings
Serves 2 as a main, 4 as a starter
Ingredients
8 large scallops
2 tablespoons extra virgin olive oil
75g bacon, or 4 rashers
1 clove garlic, chopped
1 level tablespoon rosemary
2 tablespoons sherry vinegar (substitute dry or sweet sherry)
Salt and pepper
For Serving
Serve with some salad, sauté potatoes or both.
Method
1.

Trim the muscle from the scallops (white hard piece on the side of the scallop) and rinse them in cold water, then drain well and place on kitchen towel. Remove the coral or orange roe if you want, but this is not traditional in Europe.

2.

Heat the olive oil in a large frying pan to medium high and add the bacon. Cook until nearly brown; it will carry on cooking a little, but don't remove it as the fat from the bacon, flavours the scallops when cooking. Push the bacon to the side and add the scallops. Cook quickly increasing the heat if need be, cooking only 1 minute per side.

3.

Add the garlic and rosemary when you turn the scallops over and mix in with the bacon.

4.

Season with salt and pepper and when both sides are browned, add the sherry vinegar, remove immediately from the heat, toss the scallops in the sauce and serve straight away.
Additional Images
Not Available
Tags
Seafood, Scallops, Bacon, Sherry Vinegar