Sorrel is a very French ingredient and very easy to grow and cook. It is mostly available in the spring and summer months and has a distinct tart flavour. It is often served with fishcakes or salmon fillets. You can substitute some or all of the sorrel with spinach because sorrel does give a murky rather and a bright green sauce. The sauce can be prepared in advance; just reheat it, briefly and gently.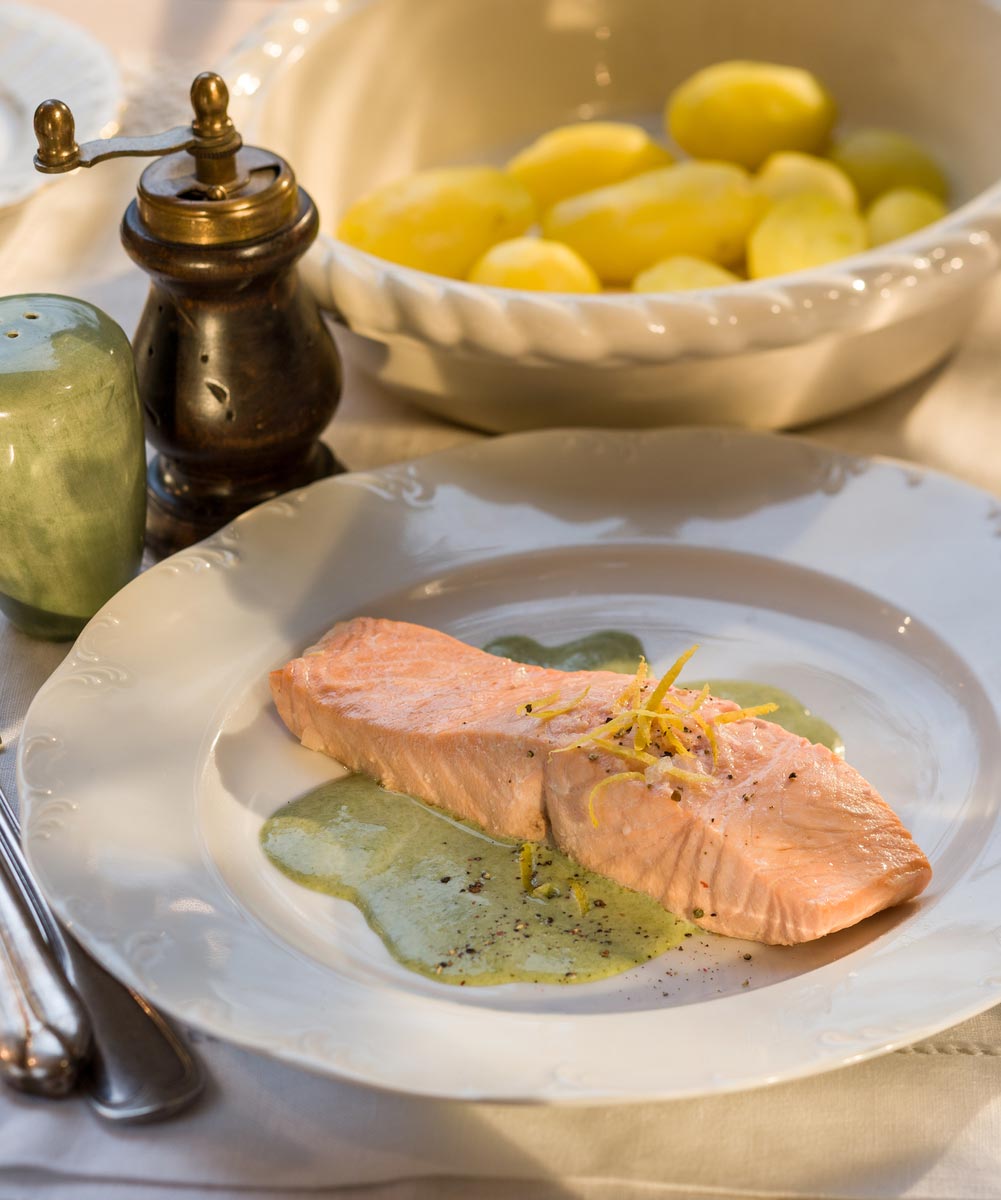 Ingredients
4 x 150g salmon fillets, skinned
1 small shallot, finely chopped, or minced on a grater
100ml white wine
100g [4oz] sorrel or selection of fresh herbs and spinach, coarsely chopped
25g unsalted butter, cold and cubed
4 tablespoons double cream
Pinch of freshly grated nutmeg
Salt and pepper
For Serving
Serve with Puy lentils or boiled potatoes.
Method
1.

Make sure the fishmongers skin the salmon. Or run a sharp knife under the skin to remove.

2.

Finely chop the shallot, or grate on a fine grater if easier. Place the wine, shallot and 4 tablespoons water into a sauté pan with a lid or saucepan that the fish fit into.

3.

Place the salmon fillets on top, season with salt and pepper and bring to a gentle simmer, covered with a lid. Cook the fish for approx. 5-10 minutes, until just cooked. The fish is half steamed, rather than fully immersed in wine.

4.

When the fish is cooked, remove carefully with a fish knife or metal spatula [a sauté pan will be easier as the sides are lower]. Place on warm plates or dish, scraping off any shallot that has stuck to them.

5.

While the fish is cooking, finely chop the sorrel, removing any tough stalks, cube the butter and keep in the fridge.

6.

Bring the saucepan of wine and shallots to a boil, adding a little more water if it's all reduced from cooking the fish. Or reduce the wine until you have about 2 tablespoons of liquid left. Add the butter and sorrel to the saucepan and cook them briefly until the butter has melted and the sorrel wilted.

7.

Add the double cream, bring to a boil and cook a minute more until you have a thin looking sauce.

8.

If you have a hand blender, then whiz the sauce to amalgamate, but this is not essential. Taste the sauce to correct the seasoning, adding a little salt, pepper and a little freshly grated nutmeg.

9.

Pour over the fish and serve straight away.
Additional Images
Not Available