Pork Tenderloin
Pork Tenderloin with Pears and Sweet Sherry
I was fortunate enough to go to a Tapas festival when I was last in Spain. Before the sherry tasting got to me, we did manage to sample some delicious tapas. This was one. The quality of the sherry really makes this dish. You can also use an even sweeter dessert wine made from the Pedro Ximenex grape, or Marsala, desert wine from Sicily. Sweet sherry can be used in a variety of recipes, so a bottle won't be wasted. Pork tenderloin is the small fillet rather than the larger loin of pork. It cooks quickly and small slices of meat work well as tapas. If you like your meat with a bit more sauce add a few tablespoons chicken stock or even water when the sauce comes to a boil.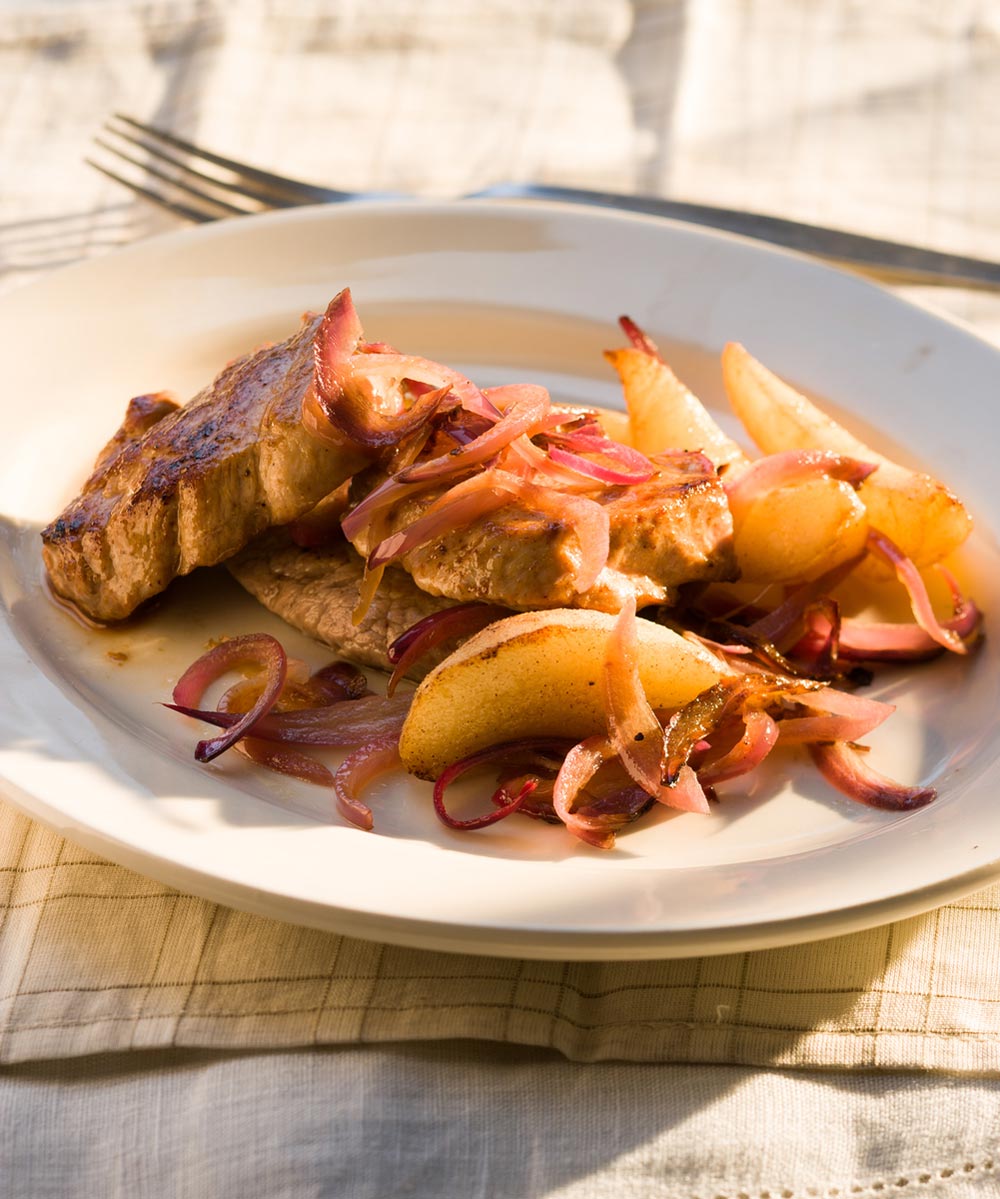 Servings
Serves 4 as tapa, 2 as a main course
Ingredients
450g pork tenderloin
2 tablespoons extra virgin olive oil
1 small red onion, thinly sliced
2 cloves garlic, sliced
1 pear, not too hard if possible
100ml sweet oloroso sherry
Salt and pepper
Few tablespoons chicken stock (optional)
For Serving
Serve with a selection of other tapas, or as a main with rice or potatoes and wilted spinach.
Method
1.

Trim the tenderloin of any white sinew if not already removed. Slice into 2.5cm discs. Slice the onion, and garlic.

2.

Heat a sauté pan [that has a lid for later] to medium high. The trick to pan frying meat is the temperature of the pan. It should be hot enough to brown and seal the meat, but not too hot that you burn the base of the pan, as the sediment left adds a delicious flavour to the final sauce.

3.

Add the oil to the pan and when hot add the pieces of pork. Cook the pork browning on both sides. Remove when the meat is sealed and brown, but if the slices are thicker, reduce the heat a little to cook through.

4.

Remove the meat to a bowl and add the onion and garlic. Cover the sauté pan with a lid and gently cook the onion, scraping all the tasty sediment left by the meat (add a dash of water to help remove before burning if the pan is too hot).

5.

While the onion is cooking, peel the pear, cut into quarters, decore and cut into 1cm slices. Add the pear and continue to cook for a further 5 mins covered. When the onion and pear are soft add the meat back to the pan, mixing into the onions and season with salt and pepper.

6.

Increase the heat to medium high, add the sherry and cook at a brisk simmer for 2 minutes, to amalgamate the flavours. Add the chicken stock if you prefer a bit more sauce!

7.

Serve straight away as a tapas or main course.
Additional Images
Not Available
Tags
Meat, Pork, Fruit, Pear, Sherry