Pomegranate Pigeon
Spatchcock Pigeon with Pomegranate Sauce
This is a Syrian dish based on the same concept as the French duck with orange. The pomegranate syrup, which is quite sharp, works in the same way as orange juice, cutting the richness of the game. Pomegranate syrup is made from reducing the juices from pomegranates – you'll find it in most Middle Eastern stores or even some supermarkets now. Spatchcocking the pigeon is not difficult and it allows it to be grilled or roasted more easily.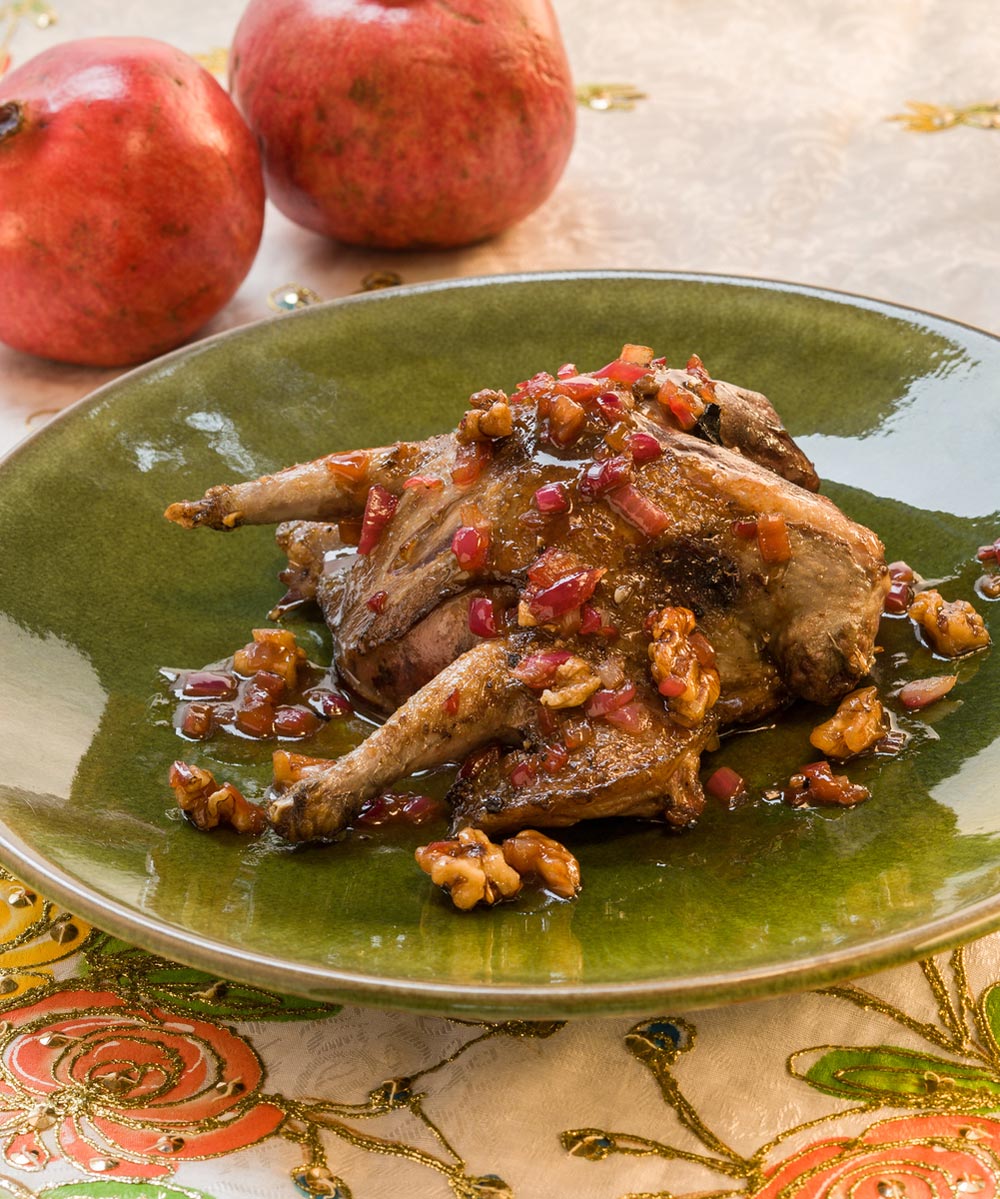 Ingredients
2 pigeon
2 tablespoon extra virgin olive oil
1 small red onion
50g walnut halves or pieces
2 tablespoons pomegranate syrup
4 tablespoons water
2 heaped teaspoons sugar
Salt and pepper
Method
1.

Preheat oven to 180C. Or get your BBQ ready. The easiest way to cook this dish is with an oven proof frying pan or sauté pan. Alternatively preheat a small roasting pan or gratin dish into which the pigeons fit snugly.

2.

To spatchcock the birds you need to remove the backbone first. Place the pigeon, breast side down on a board. Insert a pair of sharp scissors down the back- bone, working from the leg end towards the neck. Cut along both sides of the backbone –it will come out as a long thin rectangle. Turn the pigeon over and press down so that it sits as flat as possible. Repeat with the other bird.

3.

Heat a frying pan to medium high, add the olive oil and brown the pigeons on both sides. Remove the birds and set aside.

4.

While the pigeon is browning, quarter the onion and slice. Add the onion to the pan with the walnuts, breaking into pieces if halves. Turn the heat to low, cover with a lid and gently cook for 5 minutes, until the onion is soft. Pour over the pomegranate juice, the water and dissolve the sugar into the juices.

5.

Return the pigeon to the pan, season with salt and pepper. Turn the pigeons on their breasts to coat in the juices.

6.

Place the pan in the oven, or transfer to the hot dish and cook in the oven for 10 mins if you like the bird on the pink side, or cook for longer if you prefer. Check after 10 minutes and add a little more water if the juices are reduced too much.
Additional Images
Not Available
Tags
Meat, Pigeon, Game, Pomegranate