Pine Nut Cake
Pine Nut Cake with Lemon & Orange Zest and Olive Oil
This recipe is quick and easy to make - a basic genoise sponge using olive oil not butter. You often find similar cakes with lots icing sugar dusted on top in many pasticcerias in Italy.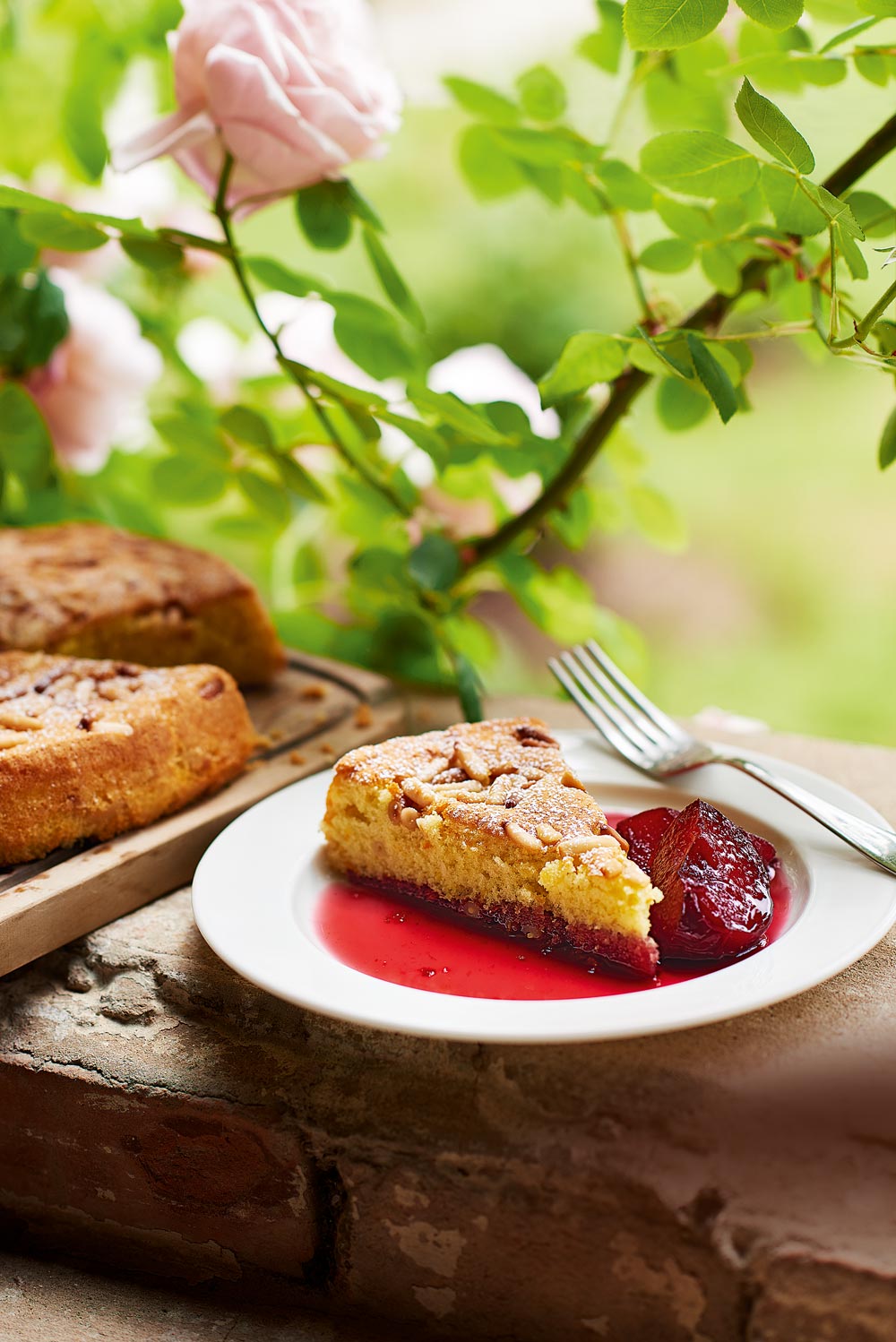 Ingredients
4 eggs
125g caster sugar
Grated zest of 1 orange and 1 lemon
125g plain flour, sifted
1 teaspoon baking powder
4 tablespoons of extra virgin olive oil + oil for lining tin
2 tablespoons dessert wine, sweet sherry
100g pinenuts
Icing sugar to dust
Butter to grease a 23cm [9"] round spring form tin
For Serving
Serve with fresh or poached fruit, a compote or even a glass of Vin Santo!
Method
1.

Preheat the oven to 170C. Grease, then line a spring form tin with greaseproof paper.

2.

Whisk the eggs with the sugar until double in bulk or ribbon consistency.

3.

Add the zest of orange and lemon and beat a minute more.

4.

Sift the flour on to a sheet of greaseproof paper and pour into the egg mixture with the baking powder, olive oil and sweet wine. Quickly, but carefully, fold the flour and liquid into the egg mixture. Cut through the centre of the bowl, scraping the bottom of the bowl with the spatula and lifting the flour and liquid up to distribute it through the whisked eggs. Turn the bowl as you fold in the flour, and continue until the eggs, flour and liquids have combined. The trick is light and quick, combining the ingredients without losing too much of the air beaten into the eggs.

5.

Pour the mixture into the prepared tin and bake in the oven for a total of 20-25 minutes. However after about 10 minutes, or when the top of the cake feels firm, gently remove from the oven and sprinkle over the pinenuts. Place back in the oven and cook for the remaining time until a clean knife inserted into the cake comes out clean.

6.

Leave to rest in the tin for about 10 minutes, remove from the tin and dust with icing sugar when cool.
Additional Images
Not Available
Tags
Dessert, Cake, Pine Nut