Pan-fried Skate
Pan-fired Skate with Caper & Parsley Sauce
This is a classic dish that is simple and yet sophisticated. Skate is the traditional choice, but another firm white fish such as cod, halibut or Seabass can equally be used. You can use butter, but it's easier with olive oil as it won't burn so easily.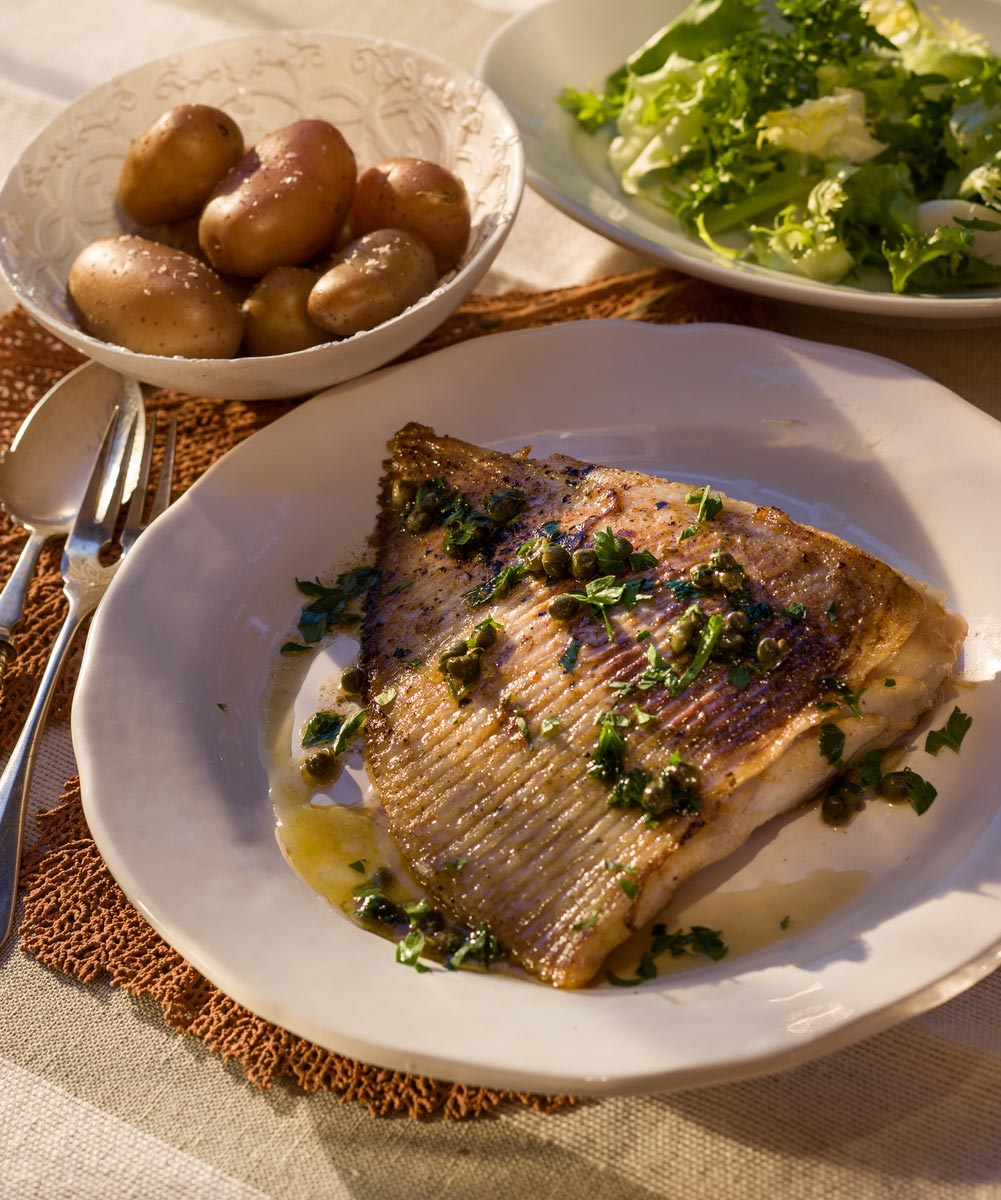 Ingredients
2 pieces of skate [about 200g/7oz fillet per portion]
2 tablepoons extra virgin olive oil
1 heaped tablespoons capers, drained and coarsely chopped
2 level tablespoons flat leaf parsley, coarsely chopped
Juice of 1 lemon, plus 2 wedges for serving
Salt and pepper
For Serving
Serve with boiled potatoes or lentils and green vegetables.
Method
1.

Trim the skate if not already done by removing the front thick bone and cut away the tips of the wings.

2.

Rinse the capers, squeeze dry and coarsely chop. Coarsely chop the parsley and mix together. Set aside.

3.

Heat a large frying pan and add 2 tablespoons of the olive oil. Cook the skate on a medium high heat, cooking for about 3 minutes either side. Turn the heat down if you think the skate is cooking too quickly before cooking through.

4.

When the fish is cooked, place on warm plates. Add the remaining olive oil to the pan, add the capers, parsley and lemon juice, and heat until bubbling.

5.

Remove from the heat, season with salt and pepper and pour over the skate and serve immediately with lemon wedges.
Additional Images
Not Available