Marinated Cauliflower
Marinated Cauliflower & Carrots with Cumin & Cardamom
Many Mediterranean recipes are based on cooked vegetables marinated in oil and lemon. The Italians will use basil and capers, the Syrians and Lebanese will add spices such as cumin or herbs such as dill. When boiling the vegetables you can add a pinch of tumeric if you wish to make the cauliflower turn a nice yellow colour. You may find you have some marinade left over. This can always be mopped up with bread, or used again to marinate more vegetables! Remove the cardamom from the shells if you think your guests won't be able to notice it and eat whole.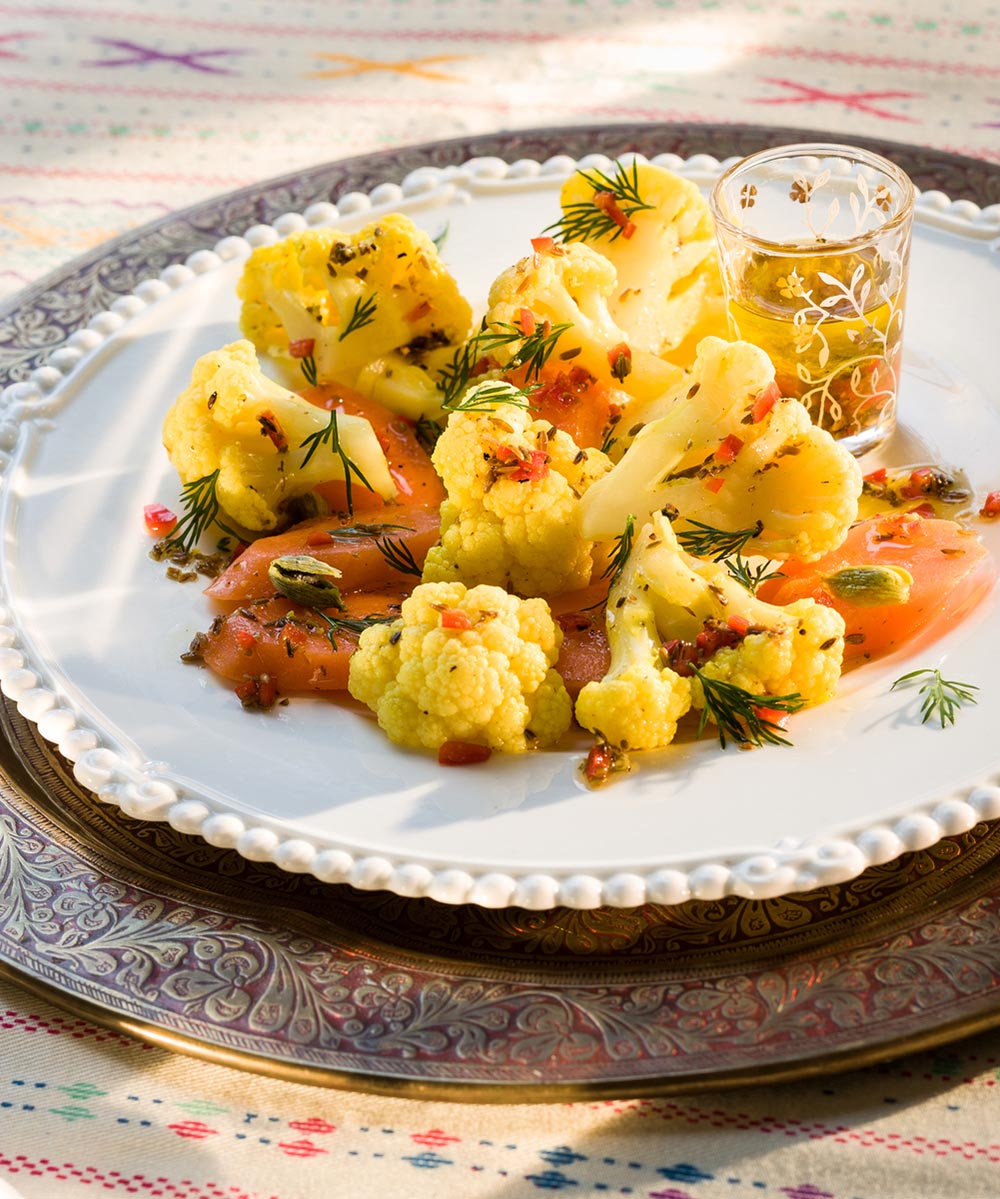 Servings
Serves 4 as a side dish
Ingredients
250g cauliflower florets
300g carrots, peeled and thickly sliced
1 teaspoon tumeric (optional)
1 garlic, crushed with salt
1 heaped tablespoon cumin
8 whole cardamom, split
3 tablespoons lemon juice
1 heaped tablespoon dill
6 tablespoons extra virgin olive oil
1 teaspoon fresh or dried red chilli, chopped
Salt
Method
1.

Bring a saucepan of salted water to the boil.

2.

Cut the cauliflower into smallish florets. Peel and thickly slice the carrots at an angle for attractive results. Cook the vegetables for 5-10 minutes, depending on whether you like your vegetables soft or crunchy. Drain well.

3.

Meanwhile, crush the garlic with salt in a pestle and mortar or knife. Add the cumin and coarsely crush, then add the cardamom to open up a little to release the flavour of the seeds. Add the lemon juice & and mix briefly. Put this mixture into a bowl.

4.

Chop the dill and chill and add to the other spices along with the olive oil.

5.

Add the drained vegetables while still hot and mix well, seasoning with more salt if need be.

6.

Leave to marinate for at least 10 minutes, or serve at room temperature.
Additional Images
Not Available
Tags
Vegetables, Cauliflower, Carrots