Fillet of Cod
Roast Cod with Tomatoes, Capers and Olives
I had this dish in a restaurant by the sea in Corsica and it seemed perfect for transportation back home. The trick is to have an ovenproof gratin dish, so you can start the cooking off on the top of the stove, then transfer it to the oven and quickly roast. You can, though, use a frying pan and transport everything to an oven proof dish, but you must preheat the dish first. Yellow peppers are a good contrast to the tomatoes, but red are fine too. The vegetables can also be prepared in advance and reheated just before cooking the fish. A meal in itself.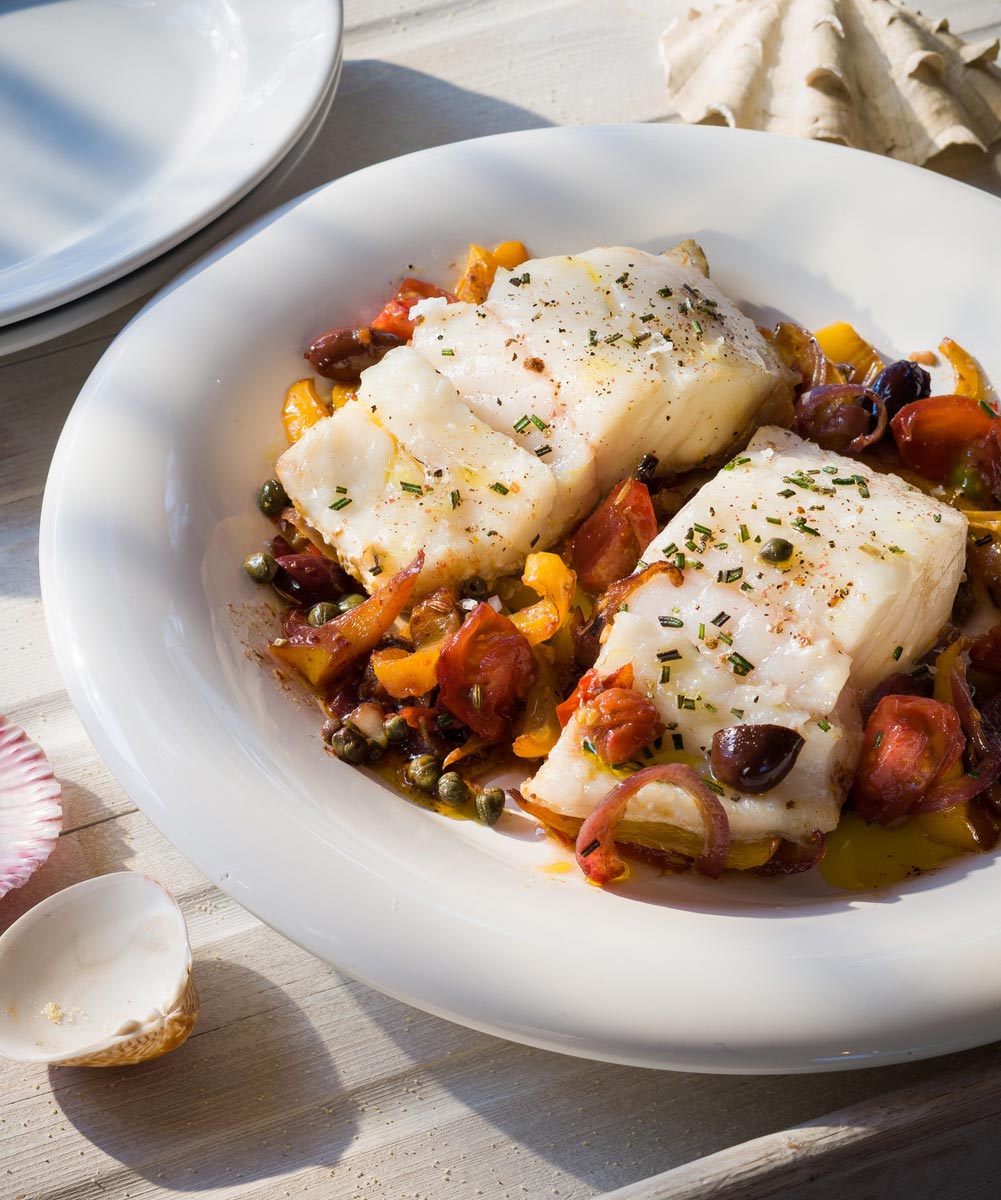 Ingredients
1 medium red onion
1 small yellow or red pepper
3 tablespoons extra virgin olive oil
1 tablespoon capers, in salt or brine
12 good quality black olives
1 level tablespoon rosemary
1 teaspoon fennel seeds, coarsely crushed (optional)
175g ripe tomatoes, cut into cubes (approx. 2cm)
1/2 large red chilli, chopped (optional)
4 tablespoons red wine
2 cod steaks (approx 225g each)
Salt and pepper
1 tablespoon of flat leaf parsley (optional)
For Serving
1 tablespoon coarsely chopped parsley scattered on top, new potatoes or a tasty grain like quinoa or buckwheat and a green leaf salad.
Method
1.

Preheat the oven to 200C and put in a gratin dish to heat if you don't have one that will cook on the hob. Heat a cast iron gratin dish on the stove, or use a frying pan.

2.

Halve an onion and slice. Deseed the pepper and cut into strips.

3.

Pour the olive oil into the gratin dish or frying pan and cook the onion and pepper, turning the heat to low. Stir frequently at first to prevent the onion and pepper browning. Cook for about 15 minutes in total. Sealing with a lid can create moisture and speed up the process.

4.

While the onion mixture is cooking, rinse the capers, stone the olives, chop the rosemary and lightly crush the fennel seeds.

5.

Add the garlic to the onion and stir. While the garlic gently cooks, chop the tomatoes, then add to the onion mixture, stirring and season with salt and pepper.

6.

Finally add the capers, olives, rosemary and fennel seeds, stir briefly. Pour the wine over and remove from the heat.

7.

Place the two steaks in the middle of the gratin dish, season with salt and pepper and put in the oven for about 10 minutes, until the cod is just cooked.

8.

Serve straight away, or at room temperature with a scattering of parsley if using.
Additional Images
Not Available
Tags
Fish, Cod, Olives, Capers, Tomatoes