Fattoush Salad
Lebanese Vegetable and Bread Salad with Somac
This is a traditional Lebanese salad that uses a variety of different vegetables that are available. What makes it a fattoush is the spice 'sumac' or 'somac' and the toasted bread. Like all Mediterraneans, they make up recipes to utilise left over bread. I don't fry my bread, it's healthier and fresh extra virgin olive oil tastes nicer.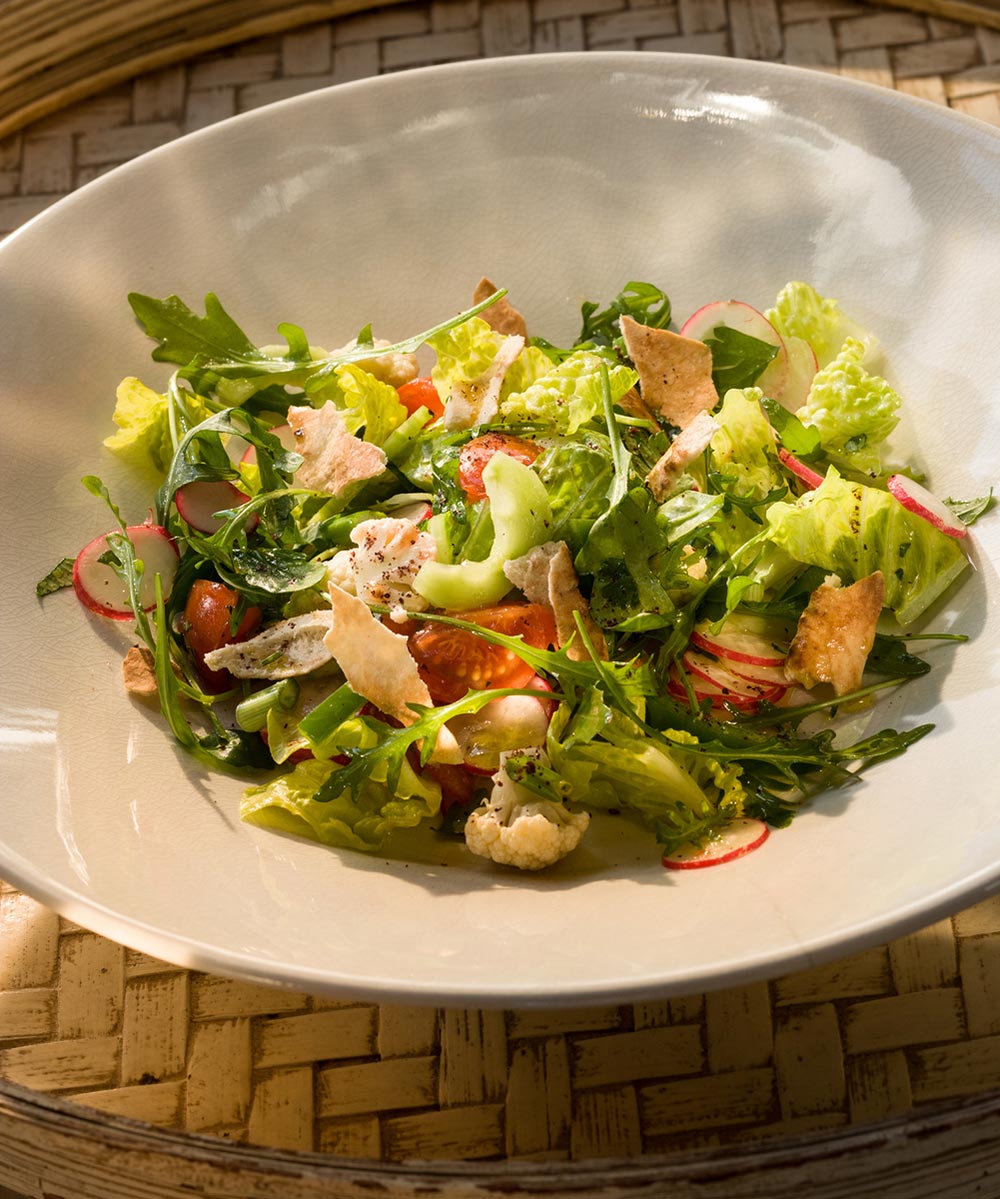 Ingredients
3 large pitta bread
1 bunches of radishes (150g), sliced
100g tomatoes cut into small cubes
3 spring onions, trimmed and finely chopped
1/2 cucumber, peeled, deseeded, quartered and sliced
1 small green pepper, quartered, deseeded and sliced
150g cauliflower, cut into small florets
1 small Cos lettuce, outer leaves removed and coarsely chopped
3 heaped tablespoons (1 supermarket packet) flat leaf parsley, coarsely chopped
3 heaped tablespoons (1 supermarket packet) mint, coarsely chopped
30g (1 large packet) rocket, coarsely chopped
1 large cloves of garlic, crushed with salt
Juice of 1 lemon (4 tablespoons)
150ml extra virgin olive oil
1 heaped tablespoon sumac/somac
Salt and pepper
Method
1.

Preheat the oven to 200C.

2.

Open up the pitta bread and toast in the oven. Try not to overlap the bread or it will not dry out evenly. Cook for about 5–10 minutes until lightly browned and crisp. Leave to cool, then break the bread into small pieces.

3.

While the bread is toasting, chop the vegetables into small pieces, (radishes, tomatoes, spring onion, cucumber, pepper and cauliflower) reserving the herbs and salad.

4.

Smash the garlic with salt in a pestle and mortar or with a knife. Mix the garlic with the lemon juice, olive oil, pepper and sumac.

5.

Mix the vegetables in the dressing. Chop the herbs and salad (rocket and Cos lettuce)] and add to the vegetables.

6.

Mix the bread into the vegetables and mix well. Taste for seasoning and if necessary add more salt and pepper.
Additional Images
Not Available
Tags
Salad, Fattoush, Bread Salad, Lebanese, Somac, Sumac