Cima di Rape Pasta
Cima di Rape Pasta with Anchovies and Parmesan
Cima di rape is a long green turnip top particularly popular in Southern Italy. I find it more interesting in flavour than straight broccoli. It has a slight mineral earthy taste. It's one of my favourite greens. Taste delicious with a little chopped red chili on top too.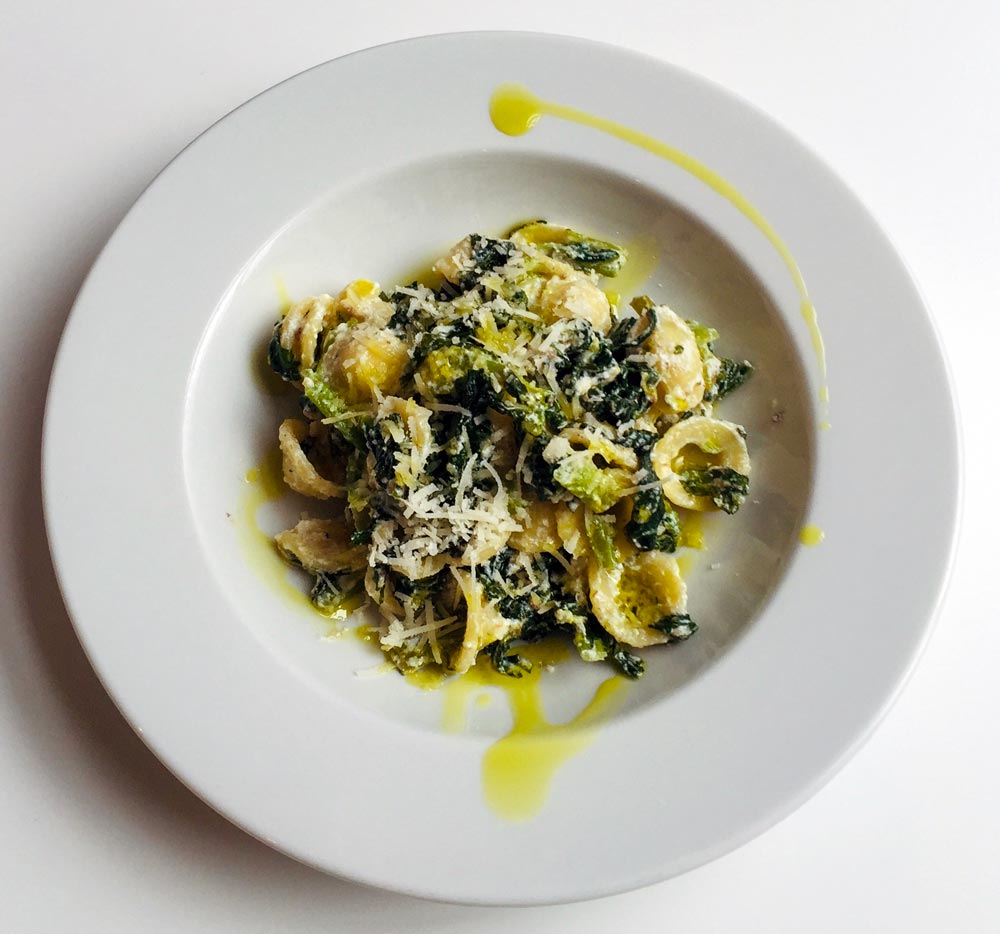 Ingredients
400g Cima di rape – coarsely chopped (360g prepared weight)
4 tablespoons extra virgin olive oil
2-3 cloves of garlic, thinly sliced
50-80g anchovies, coarsely chopped
1 heaped tablespoon rosemary, finely chopped
300-400g dried pasta such as orecchiette or spaghetti
4 heaped tablespooons parmesan
For Serving
Extra virgin olive oil and parmesan
Method
1.

Wash the cima di rape and remove any large tough stalks at the ends. Coarsely chop the rest of the cima and leave to drain.

2.

Pour the 4 tablespoons olive oil into a large pan and add the garlic. Gently cook until it just starts to colour. Add the anchovies and slowly cook until they melt and dissolve into the oil.

3.

Add the cima di rape and continue cooking gently for approximately 5 mins, stirring until they just wilt and softened. Set aside.

4.

Cook the pasta in well salted water until just al dente. Drain reserving a bit of water to mix into the sauce. Mix the pasta into the cima di rape and mix well.

5.

Add the parmesan and serve straight away with extra parmesan and a drizzle of tasty olive oil.
Additional Images
Not Available
Tags
Pasta, Vegetables, Cima di Rape, Anchovies