Chicken & Prawn Laksa
Malaysian Noodle Soup with Chicken, Prawns & Tofu
We had this for the first time in George Town Malaysia where they call it CurryMee. We were blown away by it's perfect combination of salt, sour and sweet. Ideally I make my own laksa paste, but a good quality brand can be ok if you don't have time. I've also learnt not to bother peeling ginger now. Gets blitzed and saves time. If possible, buy headed unpeeled prawns. You can simmer gently in the chicken stock for 10 mins first to add depth of flavour.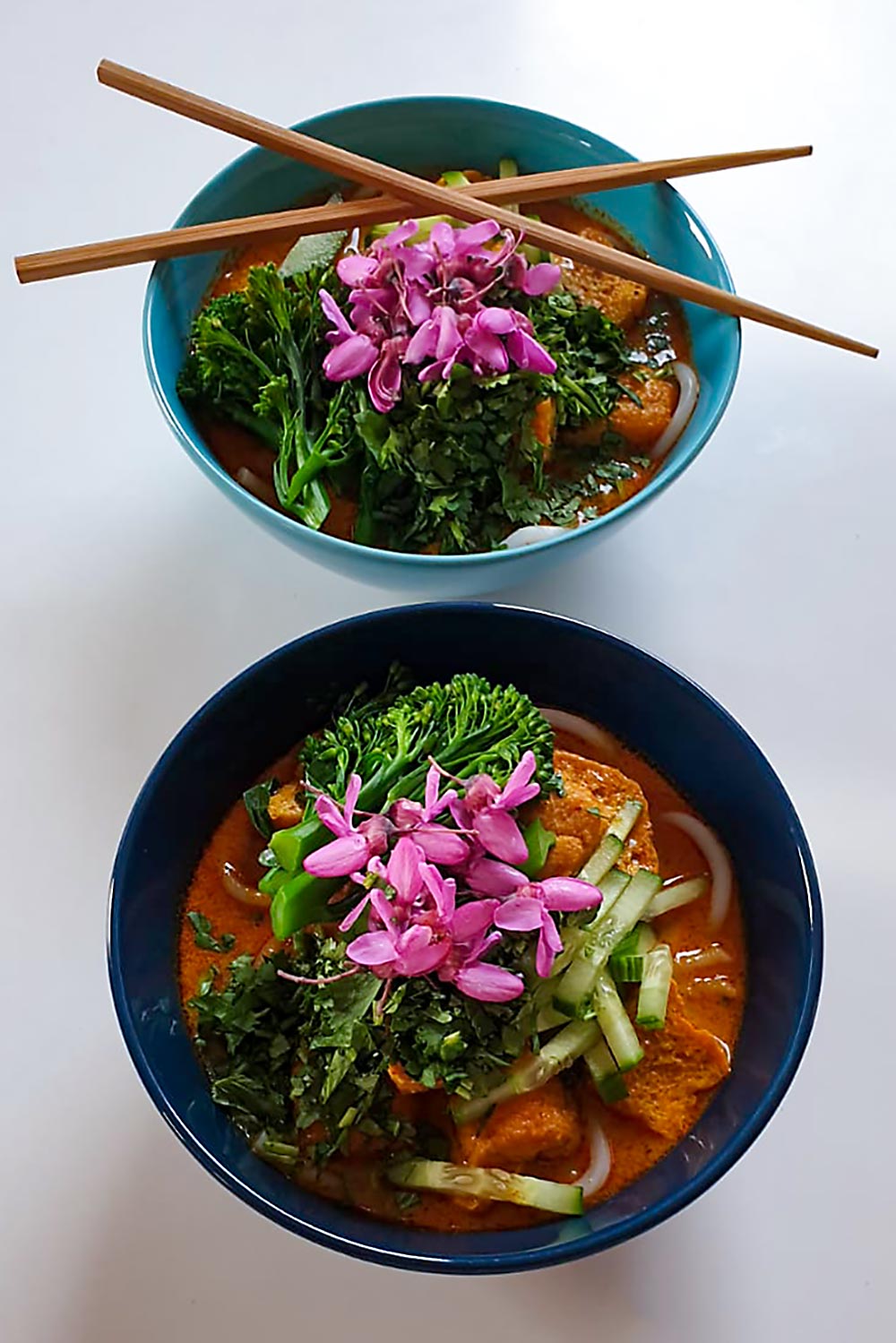 Ingredients
3 cloves garlic, peeled and roughly chopped
2 medium onions, peeled and cut into chunks (Indian onions or the equivalent in pink shallots)
3 lemongrass stalks, chopped (The rough outer leaves and top section removed and discarded if too tough)
5cm (45g) ginger, thickly sliced
4 tablespoons of good quality Laksa paste
60ml vegetable oil
4 chicken thighs, skin removed & cut into large cubes
3 pandan leaves, shredded and knotted
1.5L chicken stock
300g bean sprouts
400g rice noodles - the flat variety
225g or 20 medium sized prawns, peeled and de-veined
400ml tin of coconut milk
12 pieces deep fried tofu, sliced thickly
3 tablespoons fish sauce
½ cucumber, julienned
3 to 4 sprigs mint and coriander leaves, stems removed
1 lime, cut into wedges
4 tsp sambal (optional)
For Serving
I often garnish with a little steam broccoli and if edible flowers around then a few on top too.
Method
1.

Blend onions, garlic, lemongrass, and ginger with 2 tablespoons of water until fine. Pour mixture into a bowl. Mix in laksa paste to form a thick paste.

2.

Heat vegetable oil in a large wok. Stir-fry spice paste over medium heat until fragrant, about 5 minutes.

3.

Add pandan leaves and pour in the chicken stock (that you have already simmered with the prawn shells and drained to remove, if using). Bring to a boil. Reduce heat and allow it to simmer for 20 minutes.

4.

Pour coconut milk into the soup and bring to the boil. Add the chicken and cook until they turn opaque, about 3 minutes.

5.

Bring a pan of well - salted water to the boil. Add noodles and cook according to packaging instructions. Drain and rinse in warm water, to remove the starch and prevent from being too sticky. Keep in a little water to prevent them from sticking together too much.

6.

Just before serving heat up bowls in the oven and add the prawns to the soup and cook for 3 to 4 minutes until shrimps curl and turn pink.

7.

Add the deep fried tofu and fish sauce. Bring back to a boil and allow coconut milk to be heated through. Turn off heat.

8.

Place a portion of warm noodles in a bowl. Pour the laksa soup over the noodles dividing up the meat, prawns and tofu. Top with bean sprouts cucumber, mint & coriander leaves, lime segment and sambal if using.
Additional Images
Not Available
Tags
Meat, Seafood, Chicken, Prawns, Tofu, Malaysian, Spicy