Caramelised Oranges
Caramelised Blood Oranges with Marsala & Almonds
If blood oranges are in season, then the colour is great. But works just as successfully with ordinary ones. I like to serve it straight away to get the crunchiness of the caramel, hence the importance of drizzling over the caramel in thin strips, so you don't have large lumps of rock hard caramel to deal with. But if this dish is left to marinate especially in the fridge, the acidity of the oranges and humidity of the fridge will melt the caramel into a sauce.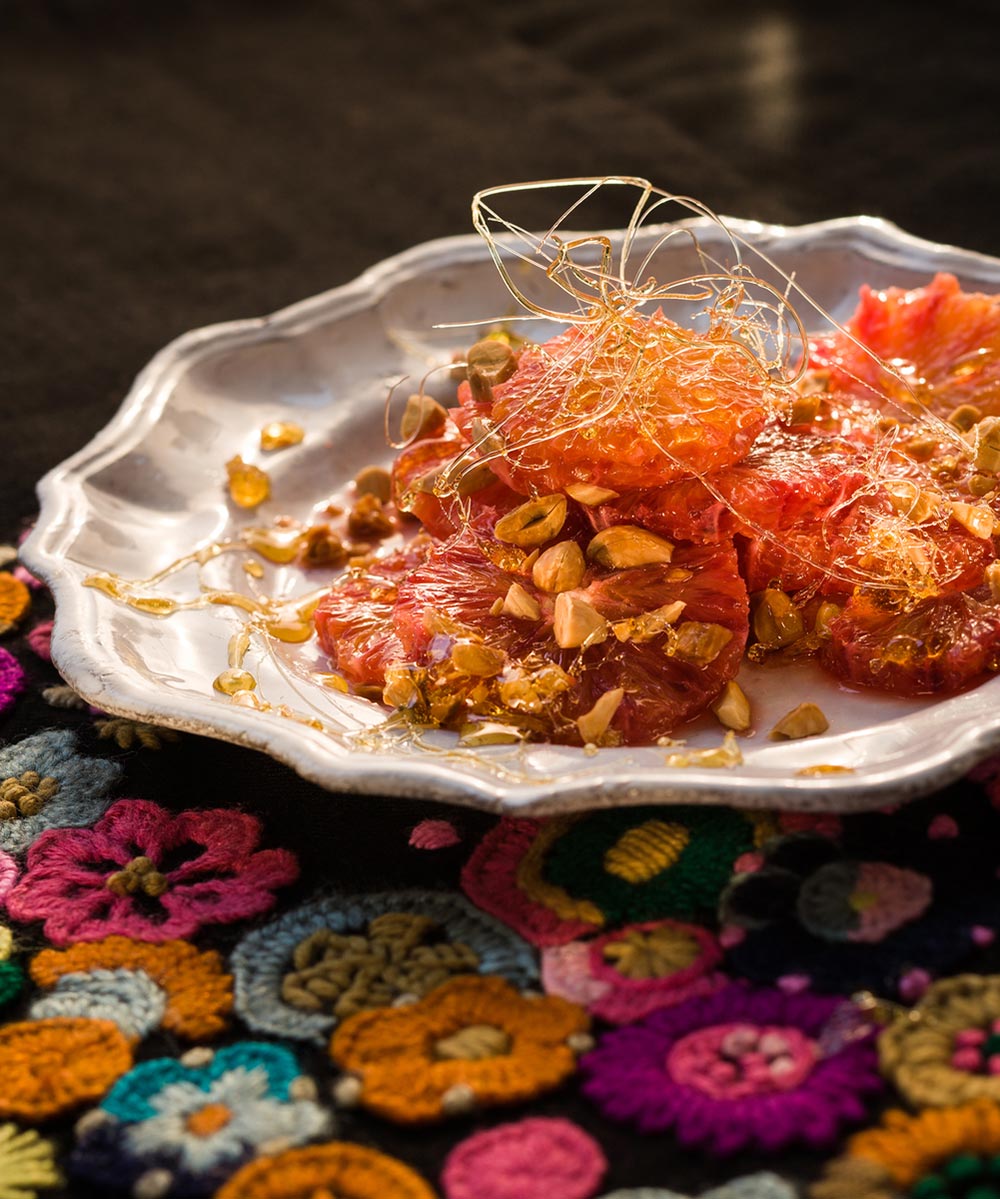 Ingredients
6 large oranges
25g [1oz] almonds, ready toasted
150g white sugar
2 tablespoons Marsala or Cointreau
100ml [4floz] water
For Serving
Any kind of tasty biscuit
Add a dollop of cream or crème fraiche if feeling naught!
Method
1.

Remove the skin from the oranges using a small-serrated knife for easiest results. Cut the two ends off, lay the orange up right and carefully remove the pith from top to toe so only the flesh of the orange is left. Be careful to only take the skin and pith off, not half the orange as well!

2.

Cut the orange into round discs, about 1cm / 1" thick. Place on a largish shallow bowl, over lapping slightly.

3.

Coarsely chop the almonds and scatter over the oranges. Sprinkle over the Marsala or grappa and leave to marinate.

4.

Next prepare the caramel. Place the sugar in a saucepan with the water, making sure you don't get too many sugar crystals around the sides as these will prevent the sugar melting evenly and can burn before the sugar is properly cooked. Never stir caramel as it will crystallize and not turn into caramel.

5.

Cook the sugar until it has turned a light brown caramel colour and all the water has evaporated. Don't leave it too late or the caramel will burn.

6.

Pour over the oranges, in drizzles, to look attractive, rather than big lumps.

7.

If you wish to make the sugar turn into thin strands, then leave a little of the sugar to cool for a few minutes. As you drizzle over the oranges, using a fork or spoon, the sugar will start to solidify into thin wispish threads that can be spun into attractive strands. Serve with biscotti.
Additional Images
Not Available
Tags
Blood Oranges, Caramel, Almonds