Aubergine Salad
Aubergine, Tomato and Mint Salad
Can't have too many aubergine recipes in my opinion. This is a delicious Turkish recipe. Left to marinate improves the flavour. So good to cook in advance.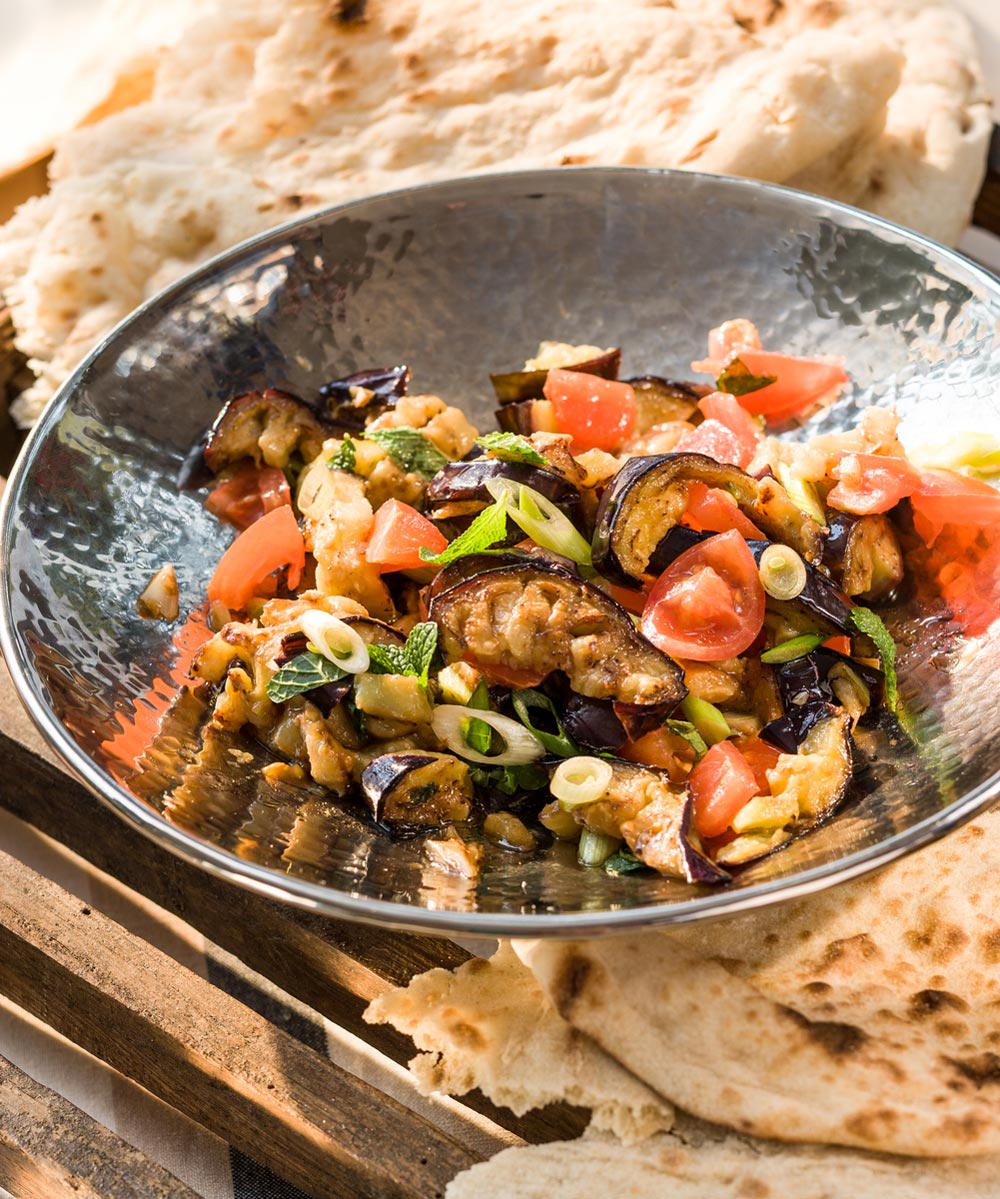 Ingredients
500g aubergines, cut into 1cm [1/2"] discs
Approx. 200ml tablespoons extra virgin olive oil
100g vine grown or any flavoursome tomatoes, cut into small cubes
3 medium size spring onions, trimmed and finely sliced
1 clove garlic, smashed with salt
2 tablespoons red wine vinegar or lemon juice
2 heaped tablespoons mint, coarsely chopped
Salt and pepper
For Serving
Warm pitta bread and a selection of other mezze
Method
1.

Slice the aubergines and heat a large frying pan or sauté pan with the oil until medium high heat. Use a generous amount of oil, about half, so the aubergines, fry, not brown on the base of the saucepan. Add just enough aubergines to cover the base of the pan and cook on both sides for about 4 minutes until golden brown and soft. Remove from the pan and drain on kitchen towel. Repeat until all aubergines are cooked.

2.

While the aubergines are cooking, chop the tomatoes and spring onions, making sure you have used some of the green stem of the onion for colour.

3.

Smash the garlic with salt and mix in a bowl with the tomato, onion, and vinegar. Season the mixture with pepper and a little salt ([depending how much you have used to smash with the garlic).

4.

Once the aubergines have been drained, cut into strips and add to the tomato mixture. Add the mint and serve with other mezze or warm pitta bread.
Additional Images
Not Available
Tags
Salad, Aubergine, Tomato, Mint, Vegetables